A reader lives a thousand lives before he dies,

The man who never reads lives only one.

-George RR Martin
Into the late night and early morning, readers transcend the barrier of reality leaving the mundanity of everyday life behind, plunging into the deepest corners of their imaginations. Returning to where they've left their bookmark, entering a new world willingly accepting their role as they enter the minds of characters, studying their idiosyncrasies and quirks as they progress through the adventure of the story.  To me, a good author is able to guide you down different avenues of morality. They'll have you relating to whatever character they throw at you challenging your beliefs, morals, and ethics.  If you find a story that has you completely entranced, it doesn't matter where you are you'll find time to read it.  I often hear people say they can't find the time to read.  Well, maybe you haven't found the right book because if you're anything like me you won't have time for anything else.  Spend the time to research novels, read reviews, read blogs, and look up best selling authors and books.
Ever since finding Percy Jackson's  "The Lightning Thief" on the library shelf of my elementary school I've been reading and collecting books. By now I've collected quite a few books at this point of my life, so here they are…my most loved and FAVOURITE BOOKS OF ALL TIME.
A Song of Ice and Fire ( Series) by George RR Martin
 A Game of Thrones
A Storm of Swords
A Clash of Kings
A Feast for Crows
A Dance with Dragons
A Song of Ice and Fire is 5035 pages of poetry.  Like the Reins of Castamere, this song is still being sung.  George RR Martin has crafted a masterpiece spanning an astounding (or ridiculous) 22 years. And it isn't even finished yet.  Fans worldwide are still waiting VERY FUCKING PATIENTLY for Winds of Winter and A Dream of Spring, which if were lucky enough will be released after HBO's "A Game of Thrones" is wrapped up. This is currently speculative but the fans are due for another novel after 7 years of agonizing silence. Hopefully George is around to finish the series because he doesn't have a contingency plan as to who will take his writing role, leaving behind an unwritten legacy and a horde of blood-thirsty fans without a satisfying conclusion.
2)
Education of a Wandering Man by Louis L'Amour
Louis L'amour illustrates his nomadic life as a wandering man shaped and molded him into who he became. He recites his life story as he boxes for money, travels alone as a hobo looking for work, and sailing the seas as a merchant seaman.  As an advocate of life-long learning, Louis L'amour shows us what it takes to find the time to read and write and the importance of it. Louis mainly wrote kick-ass western novels, and if I were you I'd definitely check out Hondo and How the West Was Won.
3)
Prince of Milk – Exurb1a
     Logic Beach – Exurb1a
Exurb1a is a YouTuber who creates content in areas of philosophy and science equipped with his unique sense of humour.  He's fucking brilliant.  It's pretty tough to sum up his books into a short paragraph so i'll list some of the ideas he touches upon…  Entropy, novelty, higher dimensions of space, time travel,  hypershapes, and talking cats.
4)
Cosmos – Carl Sagan
Carl Sagan humbles humanity with his infinite wisdom once again. Sagan's story-telling abilities make this book a page turner while he expands our knowledge of history, the history of science, the history of the cosmos, and potentially what our future histories might read.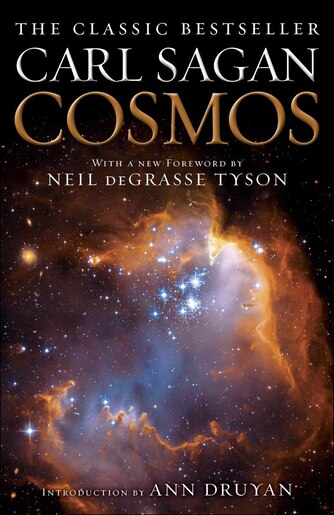 5)
The Way of Kings – Brandon Sanderson
Sanderson has written his fair share of brilliant work, but like he said himself this is the book/series he's been waiting to write for the past 10 years. The Way of Kings, is book 1 out of 10 in the Stormlight Archive series.  He takes the reader to the world of Roshar where if you're one of the elite few you can obtain an ancient blade that doesn't just sever limbs it severs the soul itself, a world where you can trade one of these swords for a kingdom.  Sanderson has you following the lives of Kaladin, Dalinar, and Shallan as they uncover the ancient forces that are re-surging.
Obviously I'm sure some of these books will be swapped out with new ones over time. But for now, these ones reign supreme. Dominating, holding heavy-weight titles without a contender to take over.